Hiking in Park City, Utah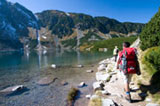 Park City in the summertime offers some of the best mountain biking, road cycling, and hiking available. So, lace up those boots and visit one of the numerous specialty shops to try out the latest in hiking gear. As the snow melts from those mountaintops, Park City comes alive with endless choices of mountain trails for outdoor enthusiasts.
With the town's two ski areas open for summertime access, you have over 150 miles of public trails to choose from, all ideal for hiking. From a scenic evening stroll to an adrenaline-raising day spent on the mountain, Park City is a great destination. Major hiking trails are available throughout the 325 miles of public terrain, as well as through town.
So come to Park City to enjoy the crisp, clean mountain air, the friendly atmosphere, and the beautiful scenery you'll take in as you explore the trails we have to offer. Remember to take plenty of water, wear comfortable, layered clothing, lots of sunscreen, and a hat. Above all, don't forget your camera!